FARM HOLIDAYS PIEDMONT
Farm Holidays Piedmont | Weekends and holidays in Farms Holidays Piedmont
Farm Holidays in provinces of:
Alessandria (AL)
Asti (AT)
Biella (BI)
Cuneo (CN)
Novara (NO)
Turin (TO)
Verbano-Cusio-Ossola (VB)
Vercelli (VC)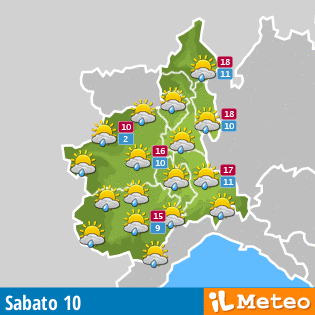 Weather Forecast details
Prices Farm Holidays Piedmont
To the right in the list Farms Holidays are highlighted the
prices Farm Holidays Piedmont
.
Prices Farm Holidays minimum price per person per day
Prices Farm Holidays minimum for apartment / double room per day
List Farms Holidays in Piedmont
Search nearby
Prices Farm Holidays Piedmont
for one night or a longer stay (weekend or holiday) and use it as "
holiday home
" in April - May - June for the discovery of the beautiful territory of the region
Piedmont vacation
.
Region rich in history, culture and traditions and, thanks to its inhabitants, very cozy. You can book your
Farm Holidays cheap
for your
holidays in Piedmont
.
---
Interesting Areas in in Piedmont
Levo above Stresa, Lake Maggiore (Italy)
Di Markus Bernet (Photo taken by Markus Bernet) [CC-BY-SA-2.0], attraverso Wikimedia Commons