FARM HOLIDAYS MOLISE
Farm Holidays Molise | Weekends and holidays in Farms Holidays Molise
Farm Holidays in provinces of:
Campobasso (CB)
Isernia (IS)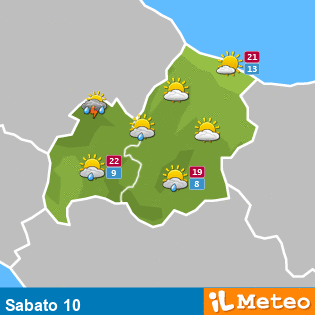 Weather Forecast details
Prices Farm Holidays Molise
To the right in the list Farms Holidays are highlighted the
prices Farm Holidays Molise
.
Prices Farm Holidays minimum price per person per day
Prices Farm Holidays minimum for apartment / double room per day
List Farms Holidays in Molise
Prices Farm Holidays Molise
for one night or a longer stay (weekend or holiday) and use it as "
holiday home
" in April - May - June for the discovery of the beautiful territory of the region
Molise vacation
.
Region rich in history, culture and traditions and, thanks to its inhabitants, very cozy. You can book your
Farm Holidays cheap
for your
holidays in Molise
.
---
We found
6
Current Page:
1
Multiple Contact
Contact most Farm Holidays at the same time
In list contact are inserted the first
50
structures.
Use the
Filtered Search
to redefine the List.
Farm Holidays
MASSERIA ACQUASALSA
86081
-
Agnone
- IS
Italy
c.da acquasalsa, 33
Tel.086577703
from:
30 €
Person/d
Farm Holidays
LA ROMANELLA
86027
-
San Massimo
- CB
Italy
c.da cerreto
Tel.0874780137 3396981976
from:
27,5 €
Person/d
| from:
55 €
Double room/d
Farm Holidays
AGRITURISMO LA QUIETE
86039
-
Termoli
- CB
Italy
c/pontone macchiozzi
Tel.3381300045-3385226141
from:
20 €
Person/d
| from:
60 €
Apartment/d
Farm Holidays
AGRITURISMO PESCO LA CORTE
86010
-
Busso
- CB
Italy
c.da pesco la corte
Tel.338 8654058
from:
20 €
Person/d
| from:
50 €
Double room/d
Farm Holidays
VILLAGGIO RURALE SANTO STEFANO DEI CAVALLI
86081
-
Agnone
- IS
Italy
contrada castelnuovo, 158
Tel.330738199
from:
30 €
Person/d
| from:
60 €
Double room/d
Farm Holidays
MASSERIA SANTA LUCIA
86081
-
Agnone
- IS
Italy
contrada santa lucia 23
Tel.0865 78694
from:
58 €
Person/d
Interesting Areas in in Molise