FARM HOLIDAYS BASILICATA
Farm Holidays Basilicata | Weekends and holidays in Farms Holidays Basilicata
Farm Holidays in provinces of:
Matera (MT)
Potenza (PZ)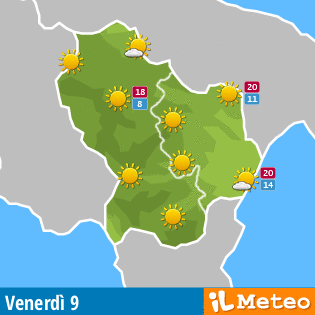 Weather Forecast details
Prices Farm Holidays Basilicata
To the right in the list Farms Holidays are highlighted the
prices Farm Holidays Basilicata
.
Prices Farm Holidays minimum price per person per day
Prices Farm Holidays minimum for apartment / double room per day
List Farms Holidays in Basilicata
Prices Farm Holidays Basilicata
for one night or a longer stay (weekend or holiday) and use it as "
holiday home
" in April - May - June for the discovery of the beautiful territory of the region
Basilicata vacation
.
Region rich in history, culture and traditions and, thanks to its inhabitants, very cozy. You can book your
Farm Holidays cheap
for your
holidays in Basilicata
.
---
We found
10
Current Page:
1
Multiple Contact
Contact most Farm Holidays at the same time
In list contact are inserted the first
50
structures.
Use the
Filtered Search
to redefine the List.
Farm Holidays
IL TERRAZZO SUL SINNI
75026
-
Rotondella
- MT
Italy
c.da caramola 3 rotondella
Tel.0835504234
from:
20 €
Person/d
| from:
40 €
Double room/d
Farm Holidays
AGRITURISMO CARRERA DELLA REGINA
85010
-
Banzi
- PZ
Italy
localitÓ panetteria sp 169 km 48 tra genzano e spinazzola
Tel.349.7611453
from:
28 €
Person/d
Farm Holidays
AGRITURISMO LA TAVERNETTA
75026
-
Rotondella
- MT
Italy
contrada trisaia a n. 24a
Tel.0835848271
from:
35 €
Person/d
Farm Holidays
IL BEL VEDERE
85034
-
Francavilla in Sinni
- PZ
Italy
mazzarella 6
Tel.0973577778
Farm Holidays
VILLA DELLE ROSE COUNTRY HOUSE
85020
-
Atella
- PZ
Italy
localitÓ masseria della croce - monticchio
Tel.329 0792703
from:
25 €
Person/d
Farm Holidays
TAVERNA CENTOMANI
85100
-
Potenza
- PZ
Italy
contrada centomani 27
Tel.320 9297502
from:
45 €
Person/d
| from:
70 €
Double room/d
Farm Holidays
PETRA LUCANA
75024
-
Montescaglioso
- MT
Italy
c.da pezzolle - s.p. ex s.s. 175 km 16,5
Tel.3460128764 - 3395701993
Farm Holidays
IL PAGO - L'AGRITURISMO
75026
-
Rotondella
- MT
Italy
c7da trisaia pantanello
Tel.0835 84 80 90
from:
28 €
Person/d
Farm Holidays
AGRITURISMO RICCIARDULLI ANTONIO
75025
-
Policoro
- MT
Italy
via monte grappa 21
Tel.0835910256
from:
25 €
Person/d
Farm Holidays
AGRITURISMO PARCOVERDE
85050
-
Grumento Nova
- PZ
Italy
contrada spineta 50
Tel.0975 65590
from:
30 €
Person/d
Interesting Areas in in Basilicata
Monti Volturino e Viggiano
Di Potito m. petrone [GFDL o CC-BY-SA-3.0] da Wikimedia